Corporate social responsibility
Every year we make millions of children happy with our products. We think it is important to do this in a social and responsible manner. Separating the waste at our office is a step in the right direction but we can always do more! For example, the roof of our warehouse is full of solar panels to generate as much electricity as possible independently. Heating is done by means of underfloor heating in order to prevent as much energy waste as possible. The lights switch on automatically and only at the locations where work is being carried out. And of course we also separate and recycle the waste there. We are also working hard to eliminate as much plastic as possible from our packaging. For example, in the future we will replace boxes with windows with "open touch" boxes where possible Packaging fastening materials in paper instead of plastic is another example of the changes we are making. .

We are also a member of and certified by the following organisations: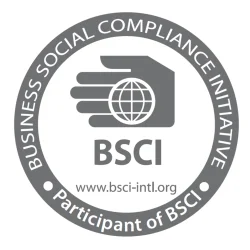 BSCI
BSCI originated from the Foreign Trade Association and adheres to a code of conduct based on international treaties that protects the rights of employees. This includes the following key concepts:
a socially responsible policy
freedom of association, such as a trade union
protection with regard to working hours and overtime
no discrimination
no child labour
no forced labour
special protection for young workers
legal minimum wage
provisions for a safe and healthy working environment
environmental protection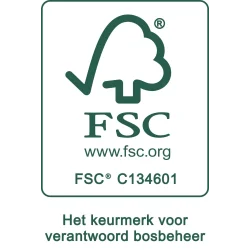 FSC
Did you know that 36 football fields of forest disappear every minute? This happens mainly in tropical forests in the South American Amazon, the African Congo Basin and Southeast Asia. Deforestation accounts for 15% of global CO2 emissions on an annual basis and therefore plays a major role in climate change. In addition, 80% of all animals in the world depend on the forest, as well as millions of people who live or work in the forest.
We are highly aware of these astonishing statistics. That is why more and more of our items are FSC® C134601 certified! This means that the wood comes from well-managed forests. FSC® forests are different from other forests, and must meet an enormous list of criteria. By using FSC® certified wood, we contribute directly to the protection of our global forests and to a healthy living environment for humans and animals worldwide. That is important, because you also want to forever enjoy both our forests and the natural toy products from FSC® certified wood! Our FSC® certified products are marked on the back of the box. Our FSC® certified products are marked on the back of the box.

Johntoy (H.K.) Limited is FSC certified company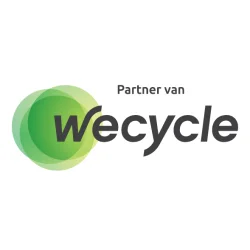 Wecycle
Returning is getting back: that is Wecycle's motto. If you return an old electrical appliance or broken electric toy (e-waste) to a Wecycle collection point, this is not the end. It is the start of a new beginning. By recycling these into new raw materials, new products can be made again. This creates a circle of producing, using, returning, recycling and newly producing. That is why it is referred to as the circular economy.
Wecycle is a non-profit foundation that regulates the collection and recycling of e-waste in the Netherlands. E-waste = all discarded devices with a plug or (rechargeable) battery and all discarded fluorescent tubes, energy-saving and LED lamps.

Triman
With the Triman, the French government wants to encourage their population to recycle better. According to the French government, the logo symbolizes the responsible citizen (black silhouette) who separates his waste in different ways (three black arrows) and thus helps with recycling (round arrow left). Those three arrows refer to the 3 sorting categories: non-recyclable, recyclable, and glass. Only if the product falls within the last two categories will it bear the Triman logo. The symbol originated as a French replacement for The Green Dot.

Packaging
Many of our packages are already made entirely of cardboard. This is seen as the most sustainable way of packaging. Of course we still have items in our collection where plastic is used in the packaging. We are aware that this is not the most sustainable way. Therefore we are very active in continuously adapting and improving our packaging in the field of sustainability. In recent years we have already adapted several articles and thus saved hundreds of pounds of plastic.